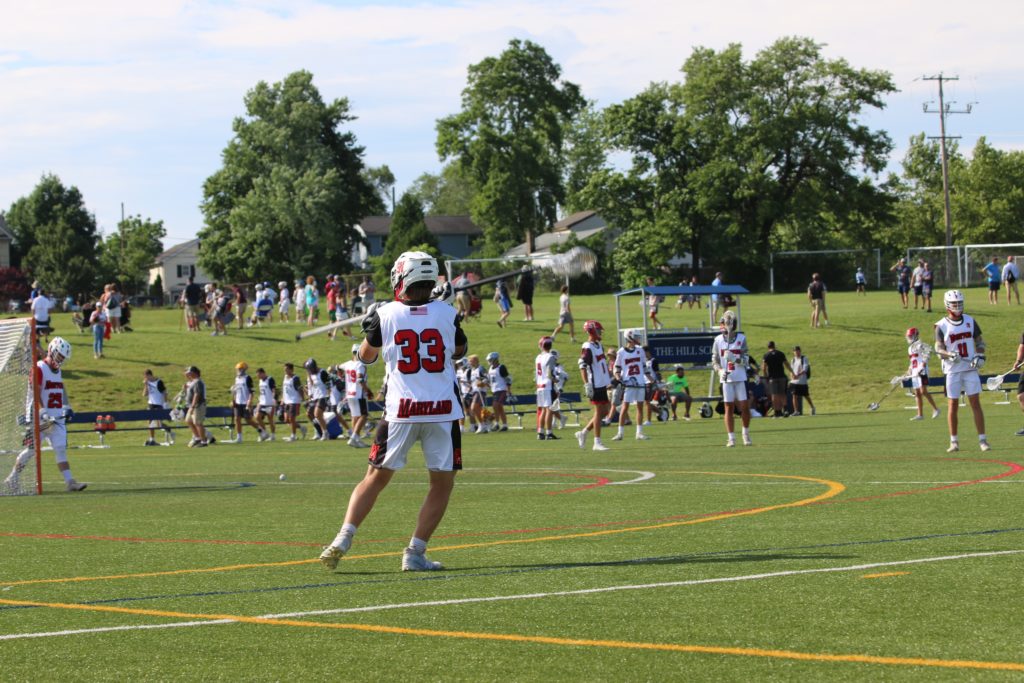 Follow Team 91 Maryland on Instagram and Twitter. 
Joey Masson figured that he was pretty open as to where he was interested in going for college, but he did have his eye on a few states, one of them being North Carolina. He spent plenty of time as a child in the northern part of the state, where his grandparents had a lake house that Masson frequently visited.
"I just loved the weather and how peaceful it was," Masson said. "It's my favorite place to be. I don't go anymore and I really do miss it, because it was so much fun."
Once Division II powerhouse Lenoir-Rhyne expressed interest in him, though, the pieces started to come together for the Team 91 Maryland 2020 and Urbana defenseman. When he took everything about the school into account, it didn't make much sense to look elsewhere.
"I was pretty open, but I really do love it down South, and North Carolina was always one of the states that I was looking to go," Masson said. "Once Lenoir-Rhyne was looking at me, I just thought it was fantastic. I love the town (Hickory) around it. It's not a huge town, but it's centered around Lenoir-Rhyne, and the Lenoir-Rhyne sports are the center of the town. it has a great vibe to it and you feel welcome and that you're a part of it."
It didn't take long for Masson to seize the opportunity to become a Bear, and he became the third Team 91 Maryland '20 to commit to a school after Brayden Franey (Glenelg Country/Elizabethtown) and Tommy Martinson (Gilman/Harvard). He's the first player in Team 91 Maryland history to choose Lenoir-Rhyne.
"From my first visit there, I loved the campus and thought that it had a great vibe to it, and it was a very laid-back feeling," Masson said. "Once I got on campus, I knew deep down that it was the best place and best fit for me. I thought that the coaching staff was great and there's a winning culture there with awesome facilities and everything about it was great. I've always been interested in business and I think I want to get into business management, and Lenoir-Rhyne's business program was a big draw for me."
'20 coach Brent Johnson has worked with Masson for the past two years when the newest Bear came over to 91, and since then, he's been impressed with both his approach to the game and desire to get better. Johnson had a hand in Masson's development into a college-ready Division II prospect, and he's excited to see what his pupil can do when he gets to Hickory.
"Joey is a hard-working defender that plays a physical and very disciplined style," Johnson said. "He is an excellent team defender that values communication. He prides himself on staying low and taking away what his man wants. Joey's always looking to find the right opportunity to double with his relentless style and his teammates all love playing with him. Joey is a very coachable young man and I am very confident he will be very successful on and off the field, particularly at a school like Lenoir-Rhyne that allows him to be challenged on and off the field."
Coming out of a shell
Per Masson's admittance, it took some coaxing from the likes of Johnson and defensive coach Brian Semkiw to have that physical, relentless style come to the light, but combining the experience that he's received by playing at a high level of club and three years as a varsity starter helped him blossom.
"They've helped me become a different player and come out of my shell," Masson said. "I used to kind of play passive and just sit there and wait for guys to come at me. Now, I'm much more comfortable pressuring guys' hands, and a big part of that is because my coaches told me not to worry about getting beat because the slide would be there for me. In the back of my head, knowing that someone will have my back really helped me. Those coaches, as well as my high school coach Gavin Donahue, have all coached my since I was a little kid, and they've helped me a ton."
It clearly paid off.
TEAM 91 MARYLAND 2020 COMMITS
(Click here for all program commits)
Brayden Franey, goalie, Glenelg Country – Elizabethtown (Commitment story)
Tommy Martinson, defense, Gilman – Harvard (Commitment story)
Joey Masson, defense, Urbana – Lenoir-Rhyne