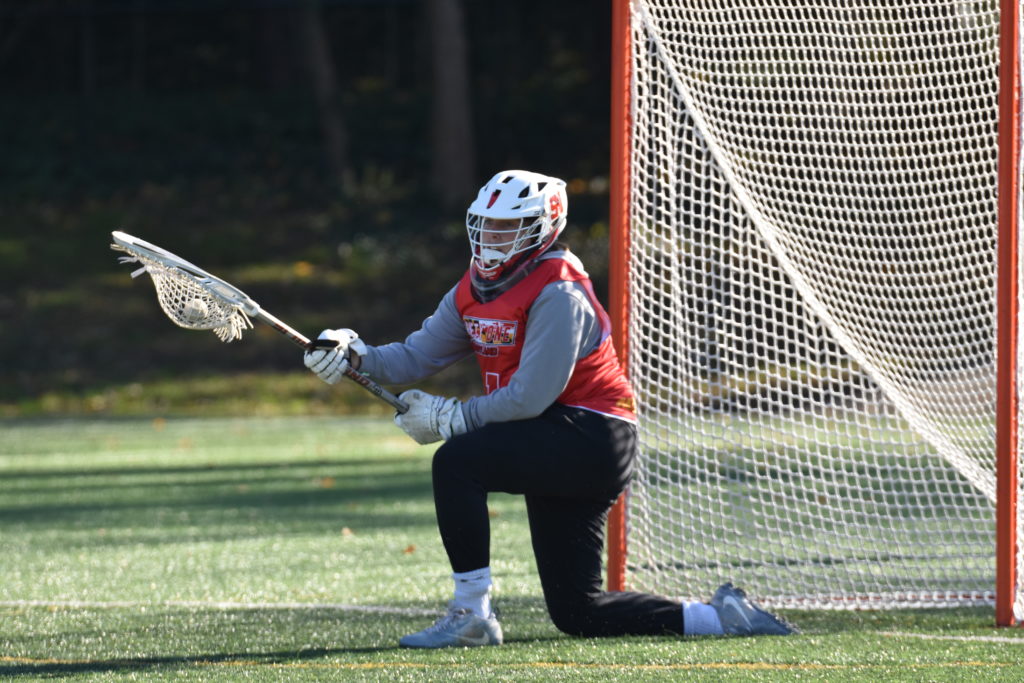 Follow Team 91 Maryland on Instagram and Twitter. 
Brayden Franey didn't know it at the time, but his future interests were being shaped by one high school class, and specifically, one project.
"We did a project where we had to build a big shed, and we designed it on a computer program and built it together," Franey said. "It was really interesting, and it kind of drew me into engineering."
That project had a lasting impact on the Team 91 Maryland 2020 and Glenelg Country School goalie, so much so that it steered his list of choices when he started to whittle down his collegiate options. Already a three-year starter for the Dragons, Franey started to get Division III interest, but at the same time, he wanted to make sure to find a school that fit his very specific needs and wants.
""Going through my classes in high school, I just figured that engineering is what I wanted to do and I knew that it would give me good opportunities going forward, so I kind of stuck with it. Ever since I was in middle school, I wanted to play college lacrosse, and I had a lot of small schools on my radar," Franey said. "
As it turned out, one of the schools that he was most interested in was Elizabethtown, which offered him a ton of opportunities to pursue his passion. While distance wasn't a main concern of his, it didn't hurt that the campus was about a 90-minute drive from his home, and the Blue Jays offered a very competitive team at the Division III level, one that put together an 11-8 mark a season ago.
When everything came together, there wasn't much holding Franey back from becoming a Blue Jay, so he opted to take his collegiate career to Elizabethtown. He became the first Team 91 Maryland '20 to commit, but has since been joined by Joey Masson (Urbana/Lenoir-Rhyne) and Tommy Martinson (Gilman/Harvard).
"The engineering there is really good, so that was a big reason," Franey said. "It's close to home, so my family can make it to most of the games. I liked the campus was the nice and small, and everybody's close together. My high school is really small, so it kind of gives me the same feeling"
Indeed, at about 320 students in the entire school, Glenelg isn't exactly the biggest school out there. Having the opportunity to make a seamless transition is important, though, and Franey has already shown that he can do just that. He transferred to Glenelg after going to a public middle school, and it helped forge his lacrosse path, too. He started as a freshman, a rarity for any position, but particularly in the cage, and that also had a hand in turning him into a college prospect.
"The first couple of games were scary, because I'd never had to play against guys who were three years older than me," Franey said. "But it helped me a lot in the long run, and I saw a lot of shots because of it."
His time with Team 91 Maryland certainly helped his development, too. Playing in big-time events against great competition always helps, and he always sought to improve on his game, particularly his communication and clearing game. For coach Brent Johnson, having the opportunity to watch Franey grow through his program for a dozen years has been incredible to watch.
"I have had the opportunity to coach Brayden since he was five years old, and he has always been a big game goalie," Johnson said. "Brayden makes the toughest save look so easy & then he will drop a dime in the midfielder's stick for a fast break. He is one of the best communicators in the cage that I have ever coached. Brayden's defenders walk on the field with confidence that he will quarterback the defense & make a big play. His confidence in the clearing game is amazing to watch, and he routinely hits the clearing midfielder's in stride & he makes it looks so easy. He's one of the best goalies I have ever coached and a true gentleman off the field, and I'm excited to watch him do great things at Elizabethtown."