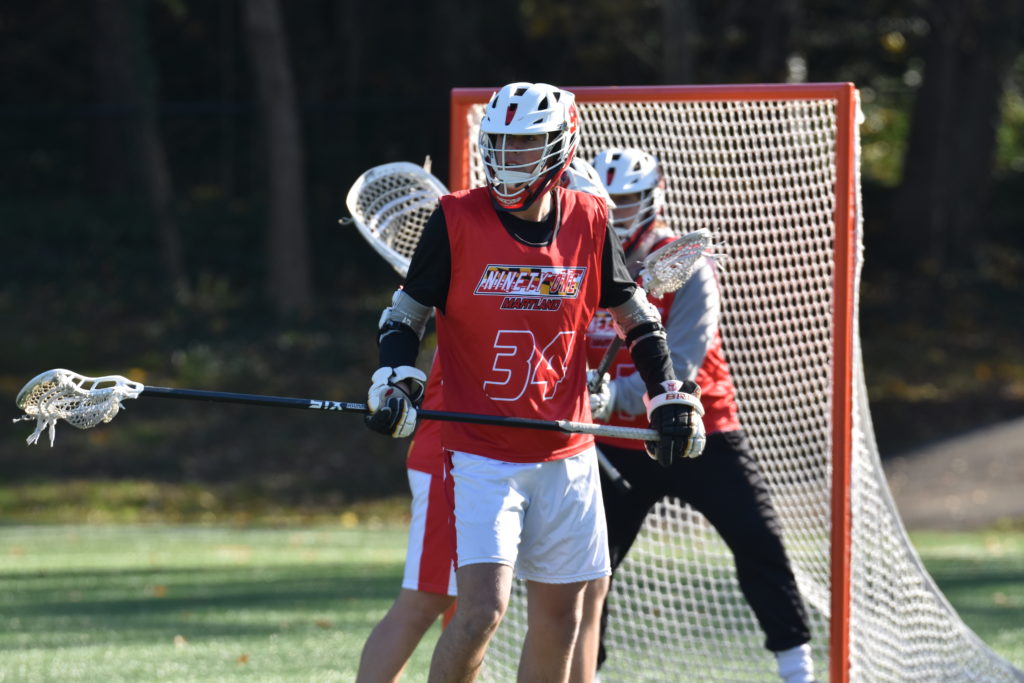 Follow Team 91 Maryland on Instagram and Twitter. 
Tommy Martinson has always prided himself on being a top student in the classroom.
The Team 91 Maryland 2020 and Gilman defenseman, who is particularly good and interested in math and science classes, has made As a mainstay on his report cards, and his academics-first mentality was something that carried over to his recruiting process.
"I didn't want to let the tail wag the dog. I wanted to find the right school first, and hopefully, lacrosse would follow," Martinson said.
Martinson had no desires to let all of the hard work that he'd put in in the classroom go by the wayside, particularly not just to upgrade his lacrosse future first. As it turned out, he never had to. New Harvard head coach Gerry Byrne saw him play this summer and loved his game, and the defensive mastermind needed no introduction to Martinson.
"When he was at Notre Dame, Coach Byrne coached some of the guys that I grew up watching, like Matt Landis and John Sexton," Martinson said. "I've watched those guys forever, and I still watch their highlights on YouTube. He's a fantastic defensive mind, and what he said he wanted in a team defender really resonated with me. It's not about showy 1v1 defense, it's about what you're doing off the ball. It's not about how you get the stop, but it's just about getting the stop."
Of course, it's Harvard, so the academics aren't taking a backseat to anybody. True to his cerebral and calculating nature, Martinson didn't want to merely jump on the opportunity based off of a name.
"It was definitely exciting to hear from Coach Byrne and Harvard has a reputation for being an excellent school, but I wanted to see it and make sure that it was everything that it was built up to be," Martinson said. "I liked the idea very much, but I didn't want to jump into it before getting up to campus and seeing everything that Harvard has to offer."
There's a reason that Harvard has the reputation that it does, and Martinson quickly found that out on his visit. When it boiled down to it, it was the school that was the best fit for him on and off the field, and he promptly committed to the Crimson, becoming the first player in Team 91 Maryland history to choose an Ivy League school.
"Harvard checked the academic and athletic boxes. I'm really glad that all of the hard work in the classroom paid off for me, too," Martinson said. "I'm excited to play for Coach Byrne, and getting in at the ground floor of what he's doing is great and I can't wait to be a part of it."
Martinson figures to be a perfect fit for the Crimson defense with his playing style. Gilman's stacked roster meant that there was a logjam at his preferred close defense spot, but he found some playing time at LSM, which allowed him to diversify his game and make him an even more appealing prospect.
"I had some ups and downs and I wasn't playing too much, but then I switched to LSM and kind of found my niche this year," Martinson said. "I didn't care where I was playing as long as I was out there, and it helped add to my skillset and ability and gave me more confidence. On ball, I've never been a big takeaway guy, but I just pride myself on staying in between my guy and the net and keeping the ball out of the net. I focus a lot on communication and using my lacrosse IQ."
His strong play carried over to the summer for 91, where he looked every bit the part of a future Ivy League defenseman. That was mostly from his hard work, but he also credited 91 coaches Brent Johnson and Brian Semkiw for that, as well as former Gilman coach Brooks Matthews and new coach John Nostrant.
"Coach Brent has been like a father figure to me," Martinson said. "He cares about the guys so much and I stuck with him, and I'm really happy that I did. We were always playing against good teams in good tournaments, but more importantly, he really cares about us as kids and people. Coach Semkiw helped with the defense and he taught me so much."
Johnson has had a front-row seat to Martinson's development over the years, and it's no surprise that he thinks that Harvard got itself a first-class player and person, one that will represent the Crimson well on and off the field.
"Tommy is a relentless worker and brings the hammer at all times," Johnson said. "He is an incredibly smart defender and his communication is off the charts. He demands that his fellow teammates buy into the team defense concept. Tommy is a very physical player and he works very hard on taking away what his man wants. He is a very opportunistic double team guy that will take it away and make a great decision while clearing it. He the complete package and I am very confident he will have a very successful career on and off the field."
TEAM 91 MARYLAND 2020 COMMITS
(Click here for all program commits)
Brayden Franey, goalie, Glenelg Country – Elizabethtown
Tommy Martinson, defense, Gilman – Harvard
Joey Masson, defense, Urbana – Lenoir-Rhyne